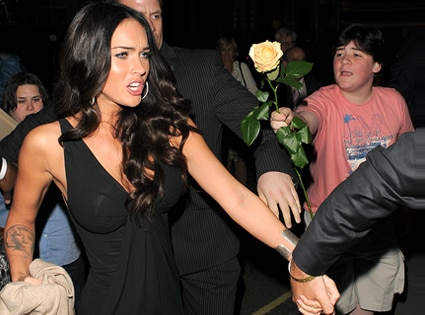 Last week, as Megan Fox was leaving the London premiere of Transformers: Revenge of the Fallen, a young fan attempted to show his appreciation for the actress with a rose.
Unfortunately, his gentlemanly gesture was foiled due to all the paparazzi chaos surrounding Megan, and the above picture is what happened instead.
The boy has a look of desperation on his face while the object of his affection appears disgusted and annoyed. It is a perfect picture, just made for the kind of celebrity mockery that happens here on the Internet.
Collider.com gave Megs the opportunity to address the rose snub over the weekend and, for the first time, she actually said something sincere and real…
"I feel so sad for him. That kills me," she says. "It breaks my heart. And if you know his name, I'll send him a personal apology. I'm horrified—I would never do that. I'm sorry, sweet boy. I would never do that to you, and I would gladly accept your rose."